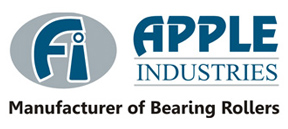 Welcome to Apple Industries
Apple Industries since inception in 1994, continuously evolving to be one of the manufacturer and exporter of top quality Bearing Rollers in the world. It now incorporates such as Cold forging Header, Heat Treatment Furnace, Shot Blasting Machine, Centerless Grinder, Face Grinder, Super-finish Machine, Inspection system, Dia-shop, Tool room and a modern Testing laboratory under one roof. It has a built in capacity to produce 7-million Rollers Per month.
We are dealing only in Bearing Rollers
We are committed to achieve customer satisfaction by providing our Bearing Rollers and other products on time, which is achieve by employees involvement, with team work, effective utilization of resources and continually improving...

Manufacturing Process for Taper Rollers: