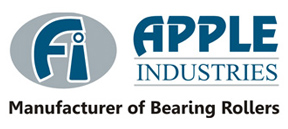 QUALITY POLICY

We are dedicated to attain complete client satisfaction by offering quality products in a timely manner, which we seek to achieve by continuous employee involvement in not only process but also effective utilization of resources and in the improvement of quality management system.

QUALITY CONTROL


Apple Industries is renowned for high quality rollers of high precision, durability and minimum noise. We are engaged in the continuous improvement of quality and undertake numerous activities to prevent defective rollers from being dispatched. We ensure quality of the rollers by testing them using accurate and reliable methods and instruments.

Our testing instruments helps us in developing high standard Rollers. We possess a perfect amalgamation of meteorology and good metallurgy to get optimum life of time rollers.



Metallurgical Microscope (1000X, Camera - SC 30) OLYMPUS


We have latest version of metallurgical microscope - Olympus - Japan with image analyzer software, used for checking the microstructure of rollers and raw materials with measuring and dimensioning, equipment used for checking microstructure as per standard norms STAHL-ELSEN-PRUFBLATT 1520 (SEP-1520) German Chart in raw materials and heat treated rollers for these value :


Spheroidzed Structure
Amount of perlite
Micro Inclusions
Carbide network
Carbide Streaks (Bendings)
Decarb depth

Profile Projector with DRO


We have standard profile projector with digital read out which is used for checking the corner radius and distance of radius of the rollers and tools.

Roundness Tester - Talyrond - TAYLOR HOBSON


Talyrond Taylor Hobson Limited (U.K.) make this world renowned quality appraisal equipment is used for checking the roundness of rollers. This control helps for improving the roller smooth performance and running accuracy .

Form Talysurf TAYLOR HOBSON


Form talysurf intra with ultra software-Taylor Hobson (U.K.) make this world renowned equipment (Form and Surface finish measuring machine) is used for checking crowning profile and surface finish of rollers this control improving rollers performance and quality.

Surf Test MITUTOYO


Surf test SJ 201 Mitutoyo Japan make this world renowned equipment (Portable Surface Roughness Tester) is used for checking the surface finishing of rollers this control improving rollers performance and quality .

| | | |
| --- | --- | --- |
| | | |
| LARGE END FACE PROFILE | OD ROUGHNESS | OD PROFILE |
| | | |
| | | |
| ROUNDNESS | RADIUS DISTANCE | HEAT TREATED MICROSTRUCTURE |

QUALITY CERTIFICATE & ACHIEVEMENT

IATF 16949:2016

IATF 16949:2016

D&B certificate


5S CONCEPT

5s is short for: Sort, Set in Order, Shine, Standardize and Sustain.5S is one of the activities that will help ensure company's survival.

Sort - All unneeded tools, parts and supplies are removed from the area.
Set in Order - Place everything in its place.
Shine - The area is cleaned as the work is performed.
Standardize - Cleaning and identification methods are consistently applied.
Sustain - 5S is as a habit and is continually improved.

Work areas are safe and free of dangerous conditions.

6-Sigma

Impeccable product launches, variation reduction in process reinforcess focus on problem solving and continuous improvement having 6-Sigma methodology.

SPC

Statistical Process Control (SPC) is followed by us.
We are dealing only in Bearing Rollers